Artist Spotlight: Valerie Legras and SWADOH
Hi friends! Happy Valentines Day!! As you know, I love how finishes can transform a space and I have a passion for all things interiors — lighting being at the top of my list. Several years ago New Orleans designer Valerie Legras came to my studio and we had an immediate connection, not only because she is energetic and oh-so-fun, but we both have an entrepreneurial spirit and share the same obsession: the creative world of design!
Featured in Milieu Magazine's Winter 2021 issue, Valerie created an environment for her young clients which feels collected, elegant, contemporary and inviting and functional. Valerie feels a space should not only reflect who you are, but who you are becoming. I love that!
If you notice, all of her designs have original and artful lighting!
"Light correlates to shadow by contrast. One does not exist without the other."–Valerie Legras
Valerie's creativity is limitless and she is always looking for inspiration. In this space an original Broadway backdrop was her start. The custom oak dining table has inlays of onyx and with its Lucite base appears to be suspended in mid air. Just brilliant!
Valerie, a native of Epernay, France, and mother of four, has made New Orleans home for the last decade. She obtained her Masters Degree in Interior and Product Design from Ecole Camondo in Paris, France where she lived and worked as a young adult. Family life brought her to New Orleans, where she opened her own firm Valerie Legras Atelier I VLA. She shared with me her passion for artistry in lighting and the wealth of French artisans which she wanted to share with the world.
From that concept, SWADOH was born. Her hope is to highlight the extremely talented artisans and creators and share connections between France (where the products originate) and Louisiana (where the products receive their finishing touches), and to continue supporting the creative ties between the two. An anagram of 'shadow,' SWADOH is driven to shine a light on creators with a refreshingly original point of view in their interpretation of materials, textures, and both traditional and contemporary techniques.
SWADOH's Artisans:
Valerie read an essay when she was studying in Paris that has had a lasting impact on her called "In Praise of Shadows" by Japanese writer Junichiro Tanizaki.
I was intrigued by how the Japanese approach to lighting is much more subtle compared to the Western approach, which can feel more dominating. Japanese culture relies on the nuance of shade and shadow while Western culture, especially during the '90s, produced lighting with increased brightness. My focus at SWADOH is to bring attention to this softer and more delicate side of lighting. – Valerie Legras
Featuring layers of Japanese paper meticulously hand-applied over a gold leaf gilded interior shell, the Palanquin Flushmount diffuses a delicately warm glow. The fixture is hardwired and can be installed on the wall or ceiling.
The Envol Hanging is inspired by a heron spreading its wings to take flight. The suspended folds of washi paper are stabilized by a polished marble weight. Well-known in France, Wright, one of SWADOH 's artisans, launched her studio more than 20 years ago in Paris, creating handmade fixtures from white Japanese washi paper. She layers thousands of light-as-air sheets to craft ethereal, organic forms such as the cloud-like Nuage, aerodynamic Oiseau, and conical Envol, a poetic piece inspired by a heron about to take flight. Legras first contacted her to source a work for one of her interior design clients. "I wanted her product because they are beautiful and unique and made by hand, and there's a true story behind her light fixtures," Legras recalls.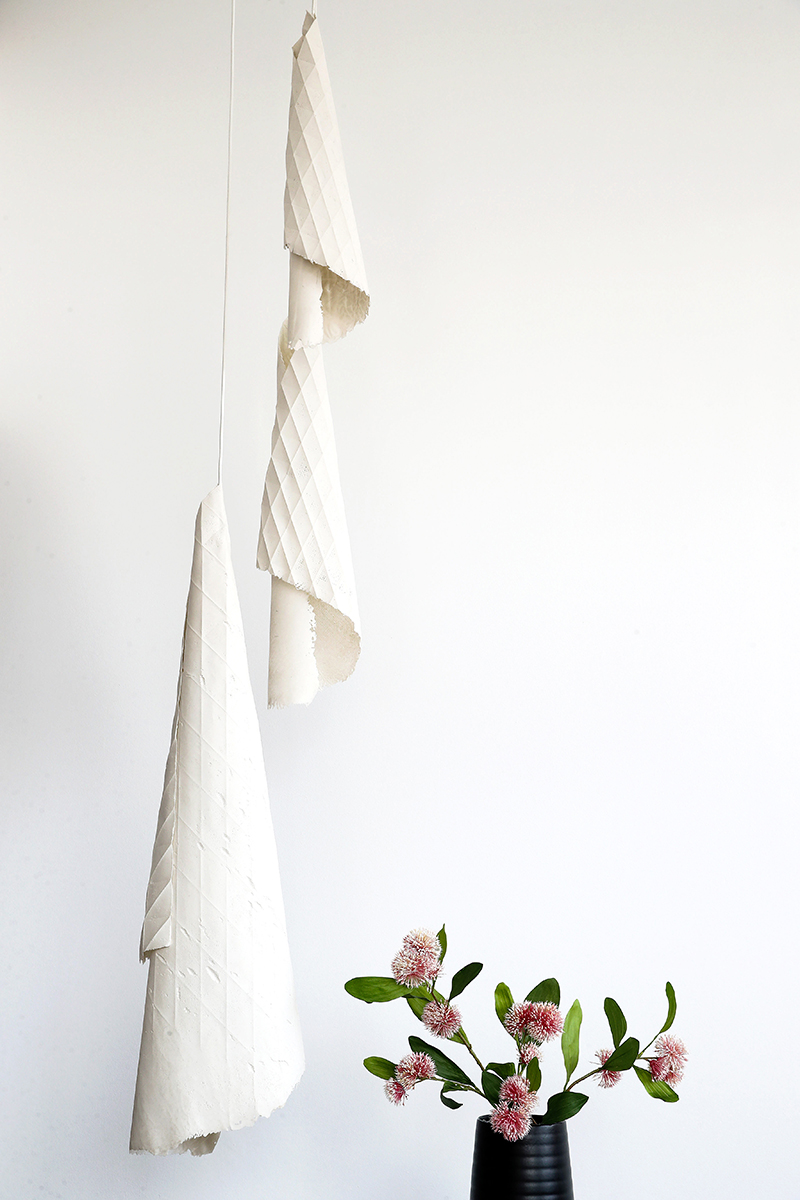 Emilie Griere from Mu, also based in Paris, invented an unexpected material, Soft Stone, mixing silica and oxygen. Her creation has just been added to the collection and is very exciting in terms of its unique look, feel, and versatility. Ibatros Quarts is a sculptural pendant with draping sheets of Soft Stone in pure white reveals a stamped texture on the exterior. Light, pliable and customizable,
An oak surface sits on a linden tree base. Methodically sculpted, L'Embellie is dyed entirely with Chinese calligraphy ink.The handcrafted texture recalls the wood material's natural and varying forms. Periodic maintenance with beeswax is required to maintain the living quality of the piece.
Valerie is constantly adding new artists, with unique skills and looks. I'm amazed that Valerie is able to stay energetic and achieve a balance to inspire creativity- something I struggle with. She shared with me her routine which gives her a charge to start each day.
I'm an early bird and my mornings are a precious moment in the day that I particularly cherish — having a little "me time" while the house is still asleep is so important to me and my well being. As a mother of four, I found that treating myself in the morning was not only good for myself but the whole family! I use this time to read the newspaper — I always start with the French edition— and then I continue with an overview of my emails while drinking a coffee. Then I go for a quick walk, listen to music, a book or a podcast . Then, after a nice shower, I am ready to start my day!
Young at heart as seen in this child's room she designed, Valerie is engaging and inquisitive and truly loves people.
I have so many things in life that intrigue me, and capture my attention and interest! I cannot simply add all of them in the category "passions". I am very curious so I am never bored! Lately I discovered a new discipline that I wanted to explore for a long time and that truly fulfilled me: I took hand building poetry classes and I loved it! Cooking is also something I love to do simply because, besides being creative, it brings people together in a joyful way. In France we say that cooking for someone is an act of love and I cannot agree more!
As if she doesn't have enough on her plate she has been curating a podcast called Textures to highlight artisans work. A couple of years ago she hosted me! If you listen to it, please know I was broken out in nervous hives through the entire interview! Glad it was not a videoed event!! I am so inspired by Valerie and hope to be just like her when I grow up! For a visual treat follow her on Instagram and visit both her websites, her lighting line SWADOH and her design website Valerie Legras. Thank you Valerie for all that you inspire!! Till next time! XO Leslie