I Am Now an IKEA Hack-Segreto's Updated Showroom!
Hi Friends!! Happy Spring!! I have been meaning to update you on the new things we have done to our offices and the warehouse, but you know how time gets away from us. Wanting to renovate, we thought we would get creative to come up with some solutions to house all of our samples and refresh our showroom.
Here is what it looked like about 6 years ago with the art work! Looking back, I do miss personally painting and certainly miss looking at all the beautiful art pieces which revolved on a monthly basis!! Until we can get a bigger space, our proprieties had to be to accommodating all of our client meetings and showcase samples. Bye bye art!
Here is the before of our main conference room. It was originally the garage before we renovated the house. I thought I would never run out of space. But 6 years later, we were bursting at the seams!
This is a shot of one side of the big room off the entry. We thought we could take this space that we previously used for retail and set up a second conference area!
Here is what it looks like today. The two chairs shown are part of a set of four. It has been a great place to sit and meet. For the sample display area I had spent hours drawing out different ideas for custom cabinetry but……. every carpenter I knew was working hard to get people back in their homes after Harvey. We had to rethink our plans and figure out what could we buy or build ourselves?
The inset drawers and top cubbies are all from??… you guessed it – IKEA! The waterfall bases are our newest innovation, SegretoStone. All the metal bins are from Pottery Barn. My fingers were crossed when I ordered them all online hoping that all the colors blended together.
Thankfully the colors all worked!! We added brass hardware to dress up the drawers and Kirby designed this wonderful Lucite and SegretoStone conference table to meet!!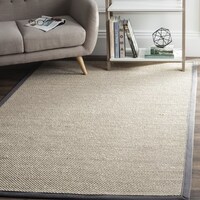 The sisal rugs came from Overstock and were so well priced! They come in all sorts of sizes and look so much more expensive than they are!! A great bang for your buck.
Set with chairs from IKEA this area has become the perfect meeting space! The brass bulletin board with inset linen are from Restoration Hardware Teen. Now all the samples are organized by color and so easy to find. Eventually this section will house the new Segreto color story. We will have plaster, paint, Segretostone and cabinet samples which will all coordinate providing clients the entire color palette in one place. We liked the design of the entire space so much we recreated it in our main conference room!
My office got a bit of a revamp as well!! Here is what it looked like when I shared it with Isai, our operations manager. When he moved to the warehouse, my daughter Kirby moved in, and we felt we needed a bit of blush and pink to girly it up.
The desks and base of the new SegretoStone table are all from IKEA. I used the same rug as in the conference areas, purchased the desk chairs from Pottery Barn Teen and added the two stools, allowing more seating for design meetings. These I found online from my favorite discount shopping sites, Ruelala. The pink painting is actually a French framed wall covering from the 50's that I purchased from Mecox!! I still love my plastered walls and pine ceiling that we finished to feel reclaimed!
With no more art to hang we decided to hang some of our favorite samples on the walls!! After all, they are a form of art and clients love to see them displayed!!
Shelves from IKEA that we painted to read like brass line the hallways and hold our samples!!
I found these great well pricedsuper cool frames from Wexel Art that can be customized to any size!! I have some of the covers from the magazines we are featured in hanging on the wall! They would look amazing with family photos in your own homes. The chair-purchased 32 years ago for my dining room has been stripped bleached and finished to read as a natural wood tone rather than shiny dark mahogany!!
What a transformation. Now the entire set of chairs surrounds a new SegretoStone table in the large conference room! I love the contemporary mixed with aged finishes!! Glad I save everything!! We are currently working on updating the bathroom but you know how they say the cobbler has no shoes, well in this case we have no powder bath. I hope you enjoyed the tour!! Our new layout has made it so much easier for us to serve our clients better–all the beautiful finishes are well organized and at our fingertips!! Next week I am going to take you on a warehouse tour!! Till then-Xo Leslie