Why Don't We Stay Bungalow Awhile?!
Hi Friends! Isn't the design world fascinating? Add to that all the amazing technologies and innovations that happen so quickly!! I've been holding on to sharing this groundbreaking project since March, but it was one that we at Segreto were super excited to be a part of! How many of us have been to designer show-houses, trade conventions or even neighborhood home tours and wished we could just move in to REALLY see if it's comfortable? Well now those in the design, building or architectural trade can!
Introducing the first STAY BUNGALOW, located in the historic Travis Heights neighborhood of Austin, Texas. The brainchild of CEO and Founder, Barret Morgan, Stay Bungalow intersects design, commerce, technology and creative vision. Unlike a traditional designer show-house, the Stay Bungalow means you can actually stay! Hop in the tub for a soak! Try cooking a meal in the kitchen! Check out the sheet thread count! And everything here was curated for you to interact with on behalf of your own clients.
An interactive app on your phone allows you to scan each item inside the show house individually and research the product and even order it!
We were delighted that Segreto Finishes was asked to be a part of this new concept and we loved that Elizabeth Krueger Design gave each trade or brand partner some latitude in what we wished to contribute! We premiered our new Segreto Lime from our color palette "Porcelain" and provided Segreto Paint to blend. Segreto Lime is a two coat all-natural lime-based plaster with a soft matt sheen. Also, we decoratively painted outlet and switch covers to blend with marble- our favorite game of "ISpy" and created custom furniture pieces in our patented Segretostone!
Segreto Lime has a very clean, organic and sleek feel. Virtually carbon neutral, it's also extremely breathable, which means any biodegradable elements inside the wall such as the wood are really protected from moisture.
With so many products and vendors participating, the color of the plaster had to be just right; neutral enough to create the backdrop for everything to truly shine. We thought Porcelain married well with both warm and cool tones and would blend seamlessly with all of their selections.
Inside the kitchen, hiding those unsightly outlet covers was a priority to keep the flow of the zen feeling throughout. I'm always so proud of our team when during the final walkthrough, the work is done so well that the designers have trouble finding the covers!
Next we created three one of a kind Segretostone furniture pieces. Segretostone was a perfect choice for the cutting edge STAY BUNGALOW. Patented by Segreto Finishes, Segretostone is custom, organic, one of a kind and all natural. I love that it blends so well with other materials and effortlessly melds with any aesthetic. Each piece is handcrafted in our workshop and then the SegretoStone finish is hand troweled and polished to a soft sheen and luminous luster.

The Segretostone round dining table was created in our Segreto Palette color, Engaging White. The whole look of the table; from color to sheen truly enhanced the timeless feel of the linens, dining ware and table enhancements. We were tasked with creating similar nesting coffee tables for the living area.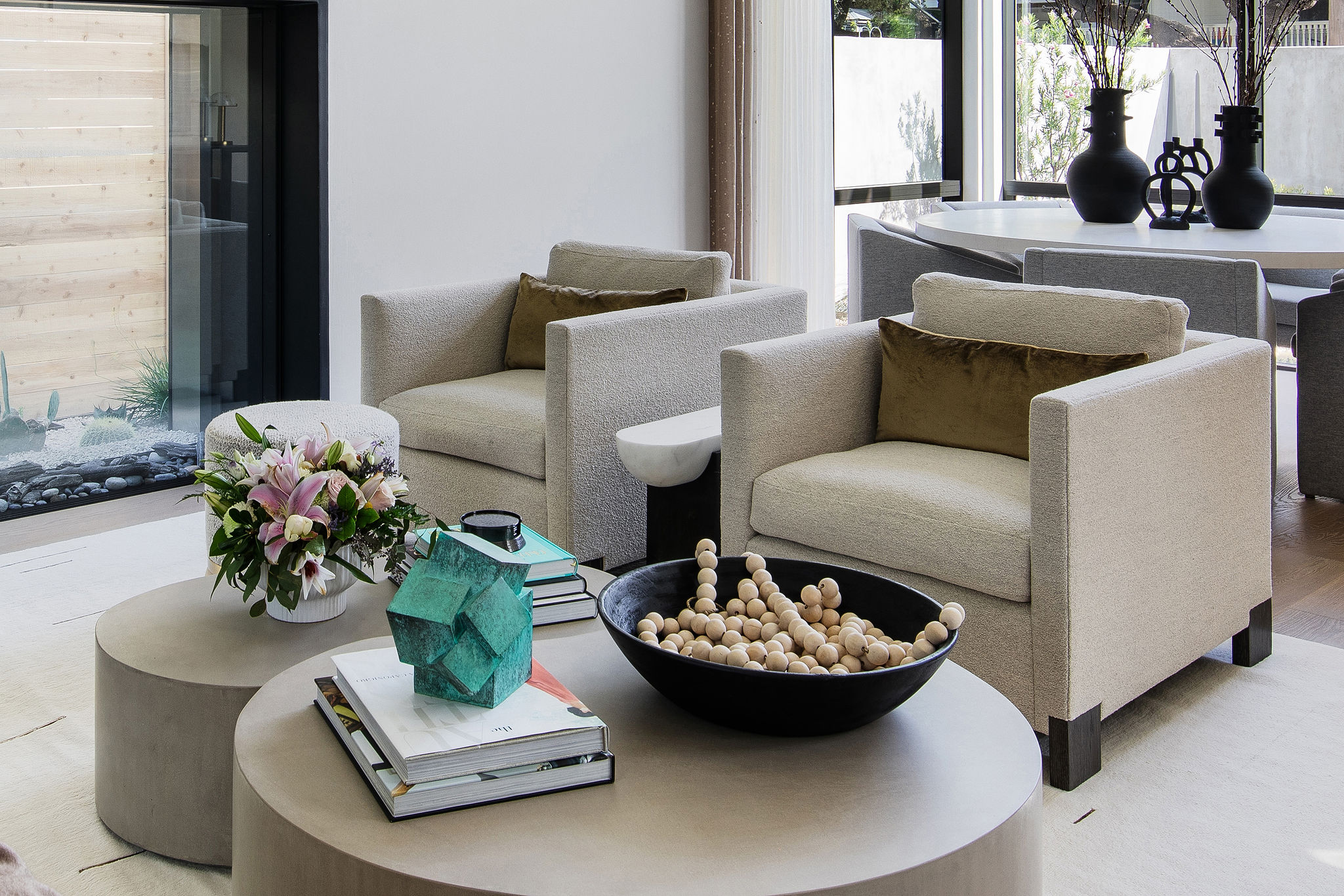 And each time our amazing artisans take an inspiration and make it a reality, I'm always so proud of them. They did such a beautiful job creating these two coffee tables in SegretoStone in the color Memorable beautifully complimenting the lovely the fabric and soft good choices.
STAY BUNGALOW is designed as a member only experience. If you are in the industry and wish to be considered for membership, I'm sure they'd love to hear from you. Contact them right here!
A little gem that serves so many functions deep in the heart of Texas. Staycation bungalow, product and services show-house and a technology leap forward! And if you are lucky enough to go and enjoy the experience and all the different products, spend some time with Segreto Finishes! Touch the walls! Use the tables! Find all the outlet covers! Make yourself at home with us! It's a brilliant idea and was a delight of a project! I hope you enjoyed your tour of Stay Bungalow as we loved being a part of the cutting-edge project.
We are still getting settled in our new place!! I will update you on progress along the way!! I Hope you have a great week. Till next time! xo Leslie
Some Things Just Go Better Together! The Segreto Finishes Showroom has moved adjacent to our warehouse! And while they have two different addresses they are now on the same campus. We are excited to better be able to show the possibilities that architectural finishes can bring to your home or project! Till Next Week! XO Leslie
New Showroom Address | 2211 Wirtcrest Ln | 713-461-5210
Warehouse Address | 11518 Kilburn Rd | 713-640-5225
For paint or furniture, please enter through the green door of the warehouse